So the Food Network has decided not to renew Paula Deen's contract. I don't blame them. After all, what does she expect for having hidden the fact that she's diabetic while continuing to promote foods that while tasty are grossly unhealthy.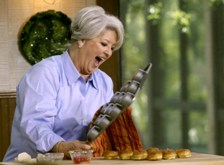 What? That isn't the reason? It's because this denizen of the Deep South at one time used the 'n' word? For which she apologized having explained it happened a long time ago? Haven't we all made comments in our past that we wouldn't think of making today? Like calling the Washington football team the Redskins. We know how offensive that is. So we're told. In the context of racial reference is the 'n' word any worse? Both are derogatory racial references. It's bad enough one could be fired for being politically incorrect for something that happened recently though many are reprimanded, sent to sensitivity school and that's the end of it. Don Imus seems to be alive, well and flourishing. So who at the Food Network has it in for Ms. Deen?/Dogwalk Musings. More here.
Question: Should Paula Deen be held accountable for something that happened some time ago and for which she has apologized.