Mon., June 24, 2013, 8:58 a.m.
Local GOP May Censure 4 Solons
Several Republican state legislators representing Kootenai County districts could receive a public reprimand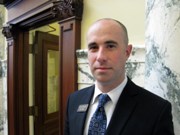 next week from members of their own political party. When the county's Republican central committee meets on Tuesday, its elected precinct committeemen will consider a resolution that would formally censure Rep. Frank Henderson, Rep. Luke Malek (pictured), Rep. Ed Morse and Sen. John Goedde, because they voted, during the last legislative session, in favor of the creation of a state insurance exchange. "I'm confused as to why they would censure those of us who advocated for and voted for state control," Malek, of Coeur d'Alene, said Friday to The Press. "If you didn't, you were advocating for a federal exchange, which would be far more harmful to Idaho." ... The Idaho House of Representatives passed the bill to create the exchange in March, by a vote of 41 to 29/Maureen Dolan, Coeur d'Alene Press. More here. (SR file photo)
Question: Izzit just me or does this censure attempt, coming months after the end of the 2013 Legislature, seem silly to you, too? What is the end game of those behind this attempt?
---
---