Tue., June 25, 2013, 1:24 p.m.
Johnson: Frank Church Warned Us
Idaho Sen. Frank Church went to his grave nearly 30 years ago still being criticized by some, including Idaho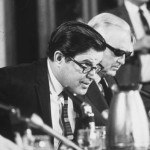 politicians like the late Sen. Jim McClure, who should have known better (and probably did), for all the alleged damage Church's various investigations in the 1970′s had done to the CIA, the FBI and the NSA. As the media fixates on security leaker Edward Snowden and his every movement, it may be worth remembering the role Church played in uncovering the spying excesses of the super secret agencies that have done nothing but grow since the Idaho Democrat pulled back the curtain on their highly questionable – and illegal – action more than a generation ago/Marc Johnson, The Johnson Report. More here.
Question: I don't trust either party when it gains a strong upper hand in governance, whether it be county, state or federal government. How about you?
---
---