Tue., June 25, 2013, 2:04 p.m.
Norquist: Accept Immigration Reform
Anti-tax activist Grover Norquist (pictured in AP file photo) told the Boise City Club there is a simple reason for conservatives to support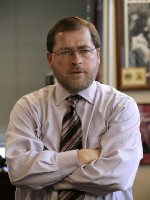 immigration reform. Economics. Norquist, arguably the single most important voice in branding the modern Republican Party around tax cuts, said low taxes and open immigration are at the heart of the American success story. Fixing the immigration system now will make the 11 million immigrants living in the shadows more productive and grow the economy by $2.5 trillion, he said. "We're not doing it to win votes, we're doing it because it's good economics," Norquist said. Japan, China and Germany will falter because they have limited immigration and aging populations. The United States is the only nation in the world that has, from its beginning, largely welcomed immigrants, which has contributed to its prosperity, Norquist said/Rocky Barker, Idaho Statesman. More here.
Question: Do you agree with Grover Norquist that immigration reform makes economic sense?
---
---