TUESDAY, JUNE 25, 2013, 8:36 A.M.
Regan Blasts Teachers Union
The appointed trustees who lost their election bids to hold on to their positions on the Coeur d'Alene school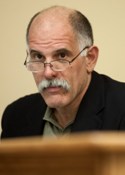 board aren't leaving quietly. When the trustees met Monday to vote on the proposed budget for the next fiscal year, which begins July 1, Brent Regan said he could not "in good conscience" give his blessing to the budget. Regan, whose term ends June 30, blasted the Coeur d'Alene Education Association during the meeting, stating that the teachers union members engaged in bad faith negotiations last spring before the election. "They came to the table wanting to, I guess, demonize us," Regan said. Because of the teachers union's lack of good faith, the current board members are faced with the prospect of approving a budget that "hurts kids," because it includes cuts, Regan said/Maureen Dolan, Coeur d'Alene Press. More here.
Question: Would teachers say that the Coeur d'Alene School Board negotiated in good faith?
---
---