Wed., June 26, 2013, 12:01 p.m.
Local Menus Feature Rhubarb
The tart taste of rhubarb transports me to my childhood home on Spokane's South Hill. A huge, leafy plant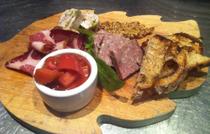 sprawled against the fence in our backyard. My dad would hand me a sun-warmed stalk and I'd dip it into a smattering of sugar and munch away. Perhaps if I'd known I was eating a vegetable the thrill might have worn off. But in my ignorance I happily spooned my mom's rhubarb preserves over pancakes and slurped rhubarb sauce straight from the pot as soon as it cooled. Do you like rhubarb? What's your favorite way to enjoy it?/Cindy Hval, SR. More here. (SR photo: Latah Bistro highlights the sweet-tart tendencies of rhubarb in an agrodolce that is served alongside the restaurant's pantry plate, which features house-made country pate, coppa salumi and grilled rustic bread)
Question: How often do you use rhubarb?
---
---