Wed., June 26, 2013, 8:53 a.m.
Local R's Oppose CdA Anti-Bias Law
(Local Republican) Party image was also a concern when Bjorn Handeen (pictured) proposed a resolution to assert the Natural Rights of Contracts and to call on the city of Coeur d'Alene to repeal its anti-discrimination ordinance.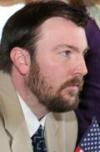 He said the resolution was not about gay rights, but rather the freedom for any two parties to willingly enter into a contract or do business with one another. The anti-discrimination ordinance as passed by the city, he said, uses the law to force citizens to do business with someone they might not otherwise choose to do business with. "We don't want to reject gays," Handeen said. "We want to protect their right to do business with whoever they want." Committeeman Duane Rasmussen said he was in favor of the intent of the resolution, but he felt the way it was written would make the committee look "goofy." "This natural rights stuff is going to make us a laughing stock. If not in the public's eyes, it will in the eyes of the legal community," he said. After a lengthy debate and few parliamentary maneuvers to amend the language the resolution passed on nearly a split vote/Jeff Selle, Coeur d'Alene Press. More here.
Question: Izzit just me -- or did the local GOP back into this one by asserting some Natural Right of Contracts rather than direct opposition to the city's new antidiscrimination law?
---
---