Thu., June 27, 2013, 3:26 p.m.
Carlson: Abolish Power Council
Sent a letter off to Governor C/L. "Butch" Otter this week asking him to take the lead among northwest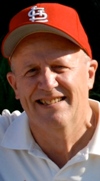 governors and abolish the Northwest Power and Conservation Council. The request is a formal follow up to the case I made about the irrelevancy of the Council in today's energy environment in my recent book, Medimont Reflections. ... Fact is, the Council has been a colossal failure, especially in its stated mission to enhance and protect dwindling wild salmon and steelhead runs in the Columbia and Snake River basins. Fact is the Council has overseen the wastage of billions of ratepayer dollars in a futile effort to come up, along with other Federal agencies, a biologically protective dam operations plan (called "Bi-ops") that will meet the test of Federal District Court approval/Chris Carlson, The Carlson Chronicles. More here.
Question: Do you know enough about the Northwest Power and Conservation Council to comment on Chris's column?
---
---