IHOP To Reopen After May 19 Crash
News release announcing re-opening of Coeur d'Alene IHOP:
Coeur D'Alene residents, rejoice! Your local IHOP, closed since May 19 due to damage it sustained from a car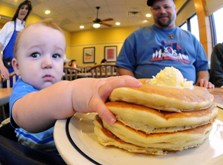 accident, will once again be open for business at 6 a.m. Monday. On the morning of May 19, a vehicle slammed into the IHOP located at 2301 Fourth St. in Coeur d' Alene. While there were no injuries, the building itself sustained substantial damage. Rather than simply repair the damage, franchisee owner and local area resident Jay Jordan decided instead to completely remodel the restaurant to reflect IHOP's latest design, making it one of the most modern IHOP restaurants in the country. "When the accident happened, in addition to being extremely grateful that no one was hurt, we realized we could take a negative and turn it into a positive by using the opportunity to bringing our loyal guests the very latest IHOP design," said Jordan. "While our guests may not recognize the new interior and exterior, what they will recognize is the same great IHOP food and service they've been enjoying for the past 10 years we've owned this restaurant." More here. (AP file photo for illustrative purposes)
Question: Are you a regular IHOP customer?
---
---