Thu., June 27, 2013, 11:59 a.m.
Olynyk Faces NBA Draft Today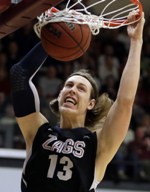 Now that the Miami LeBrons have successfully bought another NBA championship, it's finally time for this year's crop of exceptional college basketball players to find out where they'll be making money next season. Spokane hoops fans will have their eyes on the draft board this evening as Gonzaga's own Kelly Olynyk, who announced this spring that he'd forego a redshirt senior season to play pro ball, waits to hear where he'll start his NBA career. NBADraft.net currently has him as the #17 pick and headed to Atlanta in their latest mock draft. The draft begins tonight at 4:30 pm on ESPN/Mike Bookey, Inlander. More here. (AP file photo of Kelly Olynyk)
Question: Any predictions re: where former Zags Olynyk & Elias Harris will go in the NBA draft?
---
---