Fri., June 28, 2013, 4:49 p.m.
Baldwin: 'I'm Not A Homophobe'
Hot-headed Hollywood actor Alec Baldwin broke his self-imposed silence Friday to say he's a Twitter quitter —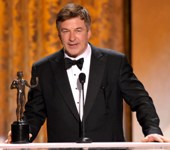 but definitely not a homophobe. The famously blustery Baldwin blew past reporters outside his East Village apartment with barely a word, but by late afternoon he popped up on Gothamist to say he wasn't using a gay slur when he called a British reporter a toxic "queen" on Twitter. "The idea of ... that being something that people thought is homophobic ... a queen to me has a different meaning. It's somebody who's just above," Baldwin told Gothamist, adding that he would have moved out of New York years ago if homosexuality offended him/Nicolle Buckey & Ginger Adams Otis, New York Daily News. More here.
Question: Am I the only one who thinks Alec Baldwin is an incredible comedic talent -- and a horrible individual?
---
---