Fri., June 28, 2013, 4:14 p.m.
Court: CA Gay Marriage Can Resume
A federal appeals court on Friday cleared the way for the state of California to immediately resume issuing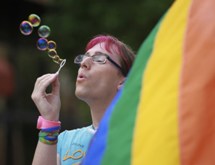 marriage licenses to same-sex couples after a 4 1/2-year freeze. The 9th U.S. Circuit Court of Appeals issued a brief order saying it has dissolved a stay it imposed on gay marriages while a lawsuit challenging the state's voter-approved ban on such unions worked its way through the courts. Matt Dorsey, a spokesman for San Francisco City Attorney Dennis Herrera, said city officials were preparing to let couples marry right away/Associated Press. More here. (AP File photo: Skye Smith celebrates on Wednesday at a rally in Redding, Calif., after the U.S. Supreme Court's rulings on gay marriage issues)
Thoughts?
---
---