Fri., June 28, 2013, 8:31 a.m.
Hagadone Donates $100K To Hydros
Call it turbo-support. Hydroplane racing, ready to return to Lake Coeur d'Alene on Labor Day weekend,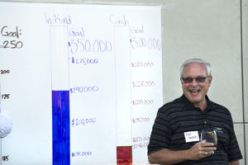 received a big boost Thursday when organizers announced Hagadone Corp. is the latest business to financially support the races. "The bottom line is the Hagadone Corp. is pleased to announce we're going to throw in another $100,000," Brad Hagadone, the company's president, said during a sponsor barbecue at Riverstone. "It's good to be a part of it." The financial pledge is the latest piece of good news in what's been a month of glad tidings for race organizers, who announced several weeks ago that the races would return to Silver Beach off East Coeur d'Alene Lake Drive over the holiday weekend. So there's no question: The races are definitely on/Tom Hasslinger, Coeur d'Alene Press. More here. (Gabe Green CdA Press photo: Brad Hagadone laughs after speaking at the Coeur d'Alene Diamond Cup Regatta sponsor barbecue Thursday evening)
Question: For the first time, I believe the hydroplane races are a go this year. How about you?
---
---