Fri., June 28, 2013, 8:57 a.m.
Jihawg Bullets Aren't Hell Sent
In his weekly Cheers & Jeers column, Marty Trillhaase/Lewiston Tribune offers jeers ... to South Fork Industries of Dalton Gardens. That company is marketing a bullet coated in pork-infused paint. South Fork Industries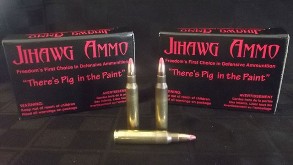 calls its product "Jihawg Ammo" and says any Muslim shot with this bullet won't get into heaven. "With Jihawg Ammo, you don't just kill an Islamist terrorist, you also send him to hell," the company says in a press release. OK, assume that's correct. What about the innocent 5-year-old Muslim child who is struck by one of these ricocheting bullets? Is she denied salvation? Thankfully, no. But neither, it turns out, is the intended target. "There is no penalty for coming into contact with pork given by the Quran," Gonzaga University assistant professor of religious studies Shannon Dunn told Religious News Service. "To my knowledge, Muslims, especially unknowingly, would not be banned from heaven from eating or getting hit by pork"/Marty Trillhaase, Lewiston Tribune. More here. (Photo from Jihawg Ammo Facebook page)
DFO: I'm beginning to think that Coeur d'Alene is as cuh-razy to the right as Portland, Ore., is to the left. Do we need a conservative phrase like Portland's "Keep Portland weird" to help us deal with the zany antics of some?
---
---