Mon., March 4, 2013, 4:52 p.m.
Hearn Files For Hightower School Seat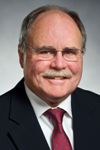 Tom Hearn has announced his candidacy for election to the Coeur d'Alene school board. Hearn will run in the May 21 election against sitting board member Jim Hightower. Hightower, who was appointed to the position in August, has not yet announced whether he will seek election. The deadline for candidates to file their paperwork is 5 p.m. March 22. All local districts have school board openings. To seek election to a seat on the school board, an individual must be a registered voter and be a resident of the zone connected to the position for at least 30 days/Coeur d'Alene Press.
---
---