Mon., March 4, 2013, 1:43 p.m.
Johnson: Dishing It Out
An old journalist friend of mine is fond of saying that "the press can dish it out, but we don't have to take it." I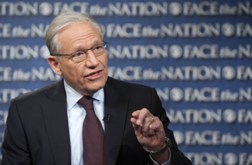 thought of that great one liner as what might have been – should have been – a serious discussion of federal budget policy over the last week turned into a junior high school style story about Bob Woodward (shown in AP file photo), the ultimate Washington insider, being "threatened" by a mild-mannered White House economic adviser. By now, unless you don't follow what passes for serious news these days, you know that Woodward, the more famous half of Woodward and Bernstein of Watergate fame, has been all over the tube expressing dismay at White House staffer Gene Sperling for suggesting that the famous reporter might "regret" pushing his version of a story on the origins of the dubious sequester idea/Marc Johnson, The Johnson Report. More here.
Question: Do you think the press likes to dish it out but can't take it?
---
---