TUESDAY, MARCH 5, 2013, 9:16 A.M.
Craig Case Could Set Precedent
A hearing this week in federal court in Washington involving former Sen. Larry Craig, (shown in AP file photo) whose political career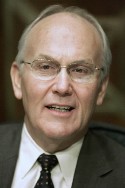 crashed after his 2007 arrest for soliciting sex in a bathroom at a Minneapolis airport, could have far-reaching ramifications on the future use by lawmakers of campaign cash to pay legal bills. U.S. District Judge Amy Berman Jackson will hear arguments Wednesday on a motion by Mr. Craig's attorneys to dismiss a lawsuit brought June 11 by the Federal Election Commission, which accuses the former Idaho Republican and his re-election committee of converting more than $200,000 in campaign contributions to pay for Mr. Craig's personal legal fees/Jerry Seper, Washington Times. More here.
Question: Do you think Craig violated the law when he used campaign funds to pay legal bills for his infamous, toe-tapping bathroom incident?
---
---