Tue., March 5, 2013, 3:28 p.m.
Review: 'Beautiful Nate'
Beautiful Nate: A Memoir of a Family's Love, a Life Lost, and Heaven's Promises, written by Idahoan Dennis Mansfield about the son who died four years ago, is as much as anything else about finding the beauty within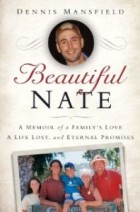 a mess. Mansfield does, although doing that has meant rethinking much of what he once thought he knew. Those who got to know Mansfield when he first moved to Idaho a bit over 20 years ago, when he emerged as a state leader of Focus on the Family and maybe the state's most visible social conservative, encountered a person of near-total certitude. An activist on the abortion and gay rights fronts, and tightly connected through much of the Idaho (and national) evangelical community, he seemed easily defined by stereotype. In his personal life too, he writes, he had a definitive take on among other things how to raise children. Then Nate happened, and if what followed didn't upend everything in Mansfield's world, it changed a great deal/Randy Stapilus, Ridenbaugh Press. More here.
DFO: Dennis Mansfield's "Beautiful Nate" is officially off the presses today. I've read it and would recommend it to any parent, especially one of faith, who is less than perfect.
---
---