Tue., March 5, 2013, 8:22 a.m.
Senior Agencies Brace For Cuts
Mike Bennigson would like to correct - at a minimum - whoever calls retirement the "Golden Years." The retired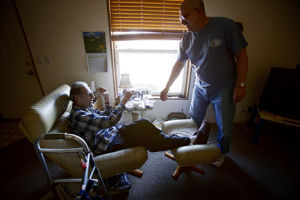 Coeur d'Alene man has had meals delivered to his home through the Lake City Center for about a year to help him make ends meet and as a result of hip surgery. "It's a little disheartening when you work all of your life, and Social Security doesn't go far," he said. "It's tough." It's going to get even tougher with the looming federal cuts aimed at trimming the national debt. The cuts, known as sequester, represent a little more than 2 percent of the federal budget and equate to $85 billion for the remainder of the 2013 fiscal year. They will impact local agencies such as the Area Agency on Aging of North Idaho, which passes on federal funds to assist area senior centers/Maureen Dolan, Coeur d'Alene Press. More here. (Jerome A. Pollos Coeur d'Alene Press photo: George Silva, a Meals on Wheels volunteer driver, talks with Mike Bennigson)
Question: Do you consider retirement to be the "Golden Years"?
---
---