Wed., March 6, 2013, 2 p.m.
Hagadone No Longer On Hydro Board
Huckleberries has learned that ... Brad Hagadone of Hagadone Corp. (pictured in SR file photo) and Rick Sousa are no longer members of the Diamond Cup Regatta Board of Directors. An updated list of directors was submitted to the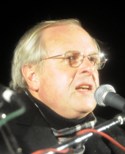 Idaho Secretary of State's office by attoney John Magnus of Coeur d'Alene on Feb. 28. President Doug Miller of Coeur d'Alene is the only remaining member from the previous board. The new board of directors are: Vice President Ryan Thielman of Spokane, Secretary/Treasurer Darren Prouty of Spokane, and Directors Keith Kroetch of Coeur d'Alene, Larry Considine of Post Falls, and Riverstone developer John Stone of Coeur d'Alene. Besides Miller, the previous board consisted of Hagadone, Sousa, Art Flagan, Jim Addis, Craig Brossene, Dave Bobbitt and Kiki Miller. Dennis Wheeler, who was involved with incorporating the Diamond Cup Regatta a year ago, also is no longer a board member.
Question: Is this almost complete turnover of the Diamond Cup Regatta board something normal, as President Doug Miller insists, or a sign that things aren't going as good as he'd like you to think?
---
---