Fri., March 8, 2013, 1:37 p.m.
Dover Bridge: Anatomy Of A Coverup
It was a classic ethical question. Highlight a mistake and delay an important project, or try to cover it up?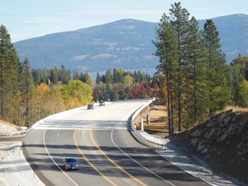 Montana native Kip Harris, a supervisor for Sletten Construction, was faced with that sort of dilemma working on the Dover Bridge on Highway 2 in Sandpoint. Before Harris got involved, the bridge, originally constructed way back in 1937, had already achieved a kind of sketchy infamy. It had become a traffic bottleneck. It had won the ignoble honor of making Popular Mechanics' 2008 list of "10 Pieces of U.S. Infrastructure We Must Fix Now," describing how a piece of the bridge was found hanging only by its rebar. But then came the 2009 federal stimulus, offering $21.6 million to replace it with a five-lane steel bridge/Daniel Walters, Pacific Northwest Inlander. More here. (Inlander photo)
Thoughts?
---
---