Fri., March 8, 2013, 1:19 p.m.
Peeps At 60: Still Going Strong
It's Easter morning. A boy rouses his younger brother, and they run to the living room to find their baskets filled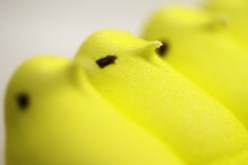 with - what else? - Peeps. "Peeps are THE candy of Easter," the excited boy tells his wide-eyed sibling, who pops a yellow marshmallow chick in his mouth. "You can eat 'em, smash 'em, microwave 'em, deep fry 'em, roast 'em on a stick," the boy explains. That's not all. You can make "historically accurate Peeps dioramas ... Peeps pop art ... You can make a Peeps topiary." On he goes, all day and night. "Peeps jousting ... hide-and-go Peeps ... Peepshi ... that's sushi made out of Peeps"/Associated Press. More here. (AP file photo)
Question: Are you planning to eat some Peeps this Easter?
---
---