Fri., March 8, 2013, 12:06 p.m.
'Wizard Of Oz' Sequels Coming
The film has yet to show and prove at the box office, but Disney is reportedly already planning a sequel to this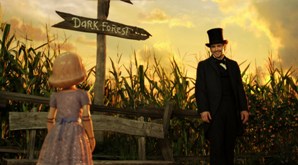 weekend's release, "Oz the Great and Powerful." Variety reports that the studio has put in a request for screenwriter Mitchell Kapner, who co-wrote the first film with David Lindsay-Abaire, to pen a follow-up. Directed by Sam Raimi, "Oz the Great and Powerful" stars James Franco as the wizard of L. Frank Baum's creation and recounts how he came to reside in that magical land with the famous yellow brick road. Billed as a prequel to the classic 1939 film, "The Wizard of Oz," critics largely haven't known what to make of it/Marquee Blog. More here. (AP/Disney Enterprises photo: Actor James Franco in scene from "Oz the Great and Powerful")
Question: As a child, I was a ha-huge "Wizard of Oz" fan. Musta read 20 of L. Frank Baum's books from the public library. I remain a ha-huge "Wizard" fan. Will you be off to see the (latest) wizard?
---
---