Tue., March 12, 2013, 5:30 p.m.
Leroy Reintroduces Idaho To Lincoln
Former Idaho Attorney General and Lieutenant Governor David Leroy (shown at Shoshone County Lincoln Day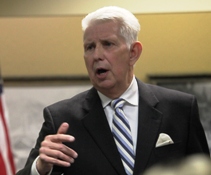 Dinner Saturday) is garnering deserved accolades for his efforts to educate Idahoans regarding the state's historical role under the guidance of President Abraham Lincoln in thwarting southern efforts to bring slavery into the territories west of the Mississippi. A successful attorney and a dedicated Abraham Lincoln historical buff, he has traveled Idaho with a refined presentation on Lincoln's role in the formation of the Idaho territory 150 years ago. He and his wife, Nancy, have also collected numerous Lincoln memorabilia which they intend to donate to the State's historical museum/Chris Carlson, Carlson Chronicles. More here. (Duane Rasmussen photo for Huckleberries Online)
Question: What do you admire most about President Lincoln?
---
---