Wed., March 13, 2013, 8:20 a.m.
Update: Man Faces Murder Charge
Dylan P. Paschall said the last time he saw Luke Anana-Kuewa, the teenager was alive. That was nearly one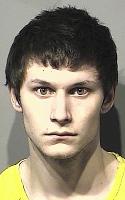 year ago, after authorities say an evening of drinking rum and smoking marijuana turned into a violent clash on the bank of the icy Mill Pond at Spirit Lake. Now Paschall, of Post Falls, is in the Kootenai County Jail on a charge of second-degree murder in the death of Anana-Kuewa. Investigators say the 18-year-old was beaten, choked, smothered and left in the frigid water on the evening of March 24, 2012. Kootenai County sheriff's detectives arrested Paschall, 20, Monday night. He is being held on $100,000 bail/Scott Maben, SR. More here.
Question: There's a place called Bubba's Pit at Spirit Lake? Who would know?
---
---