Blast From Past: Trail Controversy
From my files 25 years ago: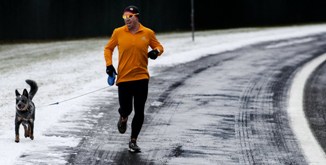 POST FALLS -- Retiree Ed Pettis prides himself on the back yard he has carved out of rocky Spokane River frontage. A span of grass and bull pines slopes southward from his double-wide mobile home to the river bank, cut in two by a hog-wire fence. The river flows in easy view of his living room. It's the southern end of Pettis' 300-foot-deep yard that causes him to scowl, the part that has been bulldozed and seeded with rye grass. Kootenai County owns an easement through that part -- along the old Spokane River Canal right-of-way, which bisects the Pettis property. "My property could look pretty nice if I were free to fix it the way I want," said Pettis, fingering a key to the padlocked gate that blocks intruders from his main yard. "They said they're going to have all kinds of stuff through there, and now they've come up with this (centennial) trail business." (Kathy Plonka SR file photo of jogger using Centennial Trail)
Question: Did you realize that a good number of Post Falls residents fought the proposed Centennial Trail, especially in the Pine Villa area?
---
---