Thu., March 14, 2013, 9:09 a.m.
Frank Church Fought Gun Control
Pictures of liberals holding rifles and code phrases like "Idaho's unique lifestyle" have long provided the cover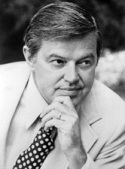 that Democrats needed to compete for rural votes. Idaho's four-term U.S. Senator Frank Church (1924-1984) was no exception. While firmly antiwar in the 1960s and 70s, he publicly opposed federal gun control as well. In 1965, as Congress debated early versions of the Gun Control Act of 1968, Church collected 60,000 Idaho signatures opposing a provision floated by Senator Tom Dodd that would have required registration of long guns. Church ceremoniously delivered the petitions to Dodd's subcommittee/Nathaniel Hoffman, Blue Review. More here. (Wikipedia photo of Frank Church)
Question: Do you think Idaho Democrats are as passionate in support of guns as Idaho Republicans?
---
---