Thu., March 14, 2013, 8:21 a.m.
Task Force Targets CSD Bullying
"You're gay." Coeur d'Alene middle school principals told members of the school district's new Anti-Bullying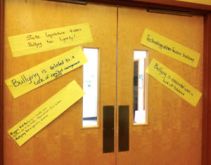 Task Force on Tuesday that the phrase is the most common statement students in grades six to eight sling at one another as a form of derision. The 32-member task force is part of the school district's renewed effort to combat bullying. Tuesday's gathering in the school district's Midtown Center meeting room was the group's first official meeting since school members called for the formation of the task force on March 4. It was formed in response to an outcry from parents who told the board in February that school officials and teachers aren't doing enough to protect their children from bullies/Maureen Dolan, Coeur d'Alene Press. More here. (Maureen Dolan Press photo: Assumptions made about bullying line the walls and doors at Coeur d'Alene School District's Midtown Center.)
Question: Do you appreciate the fact that the School District is taking the problem with bullying seriously?
---
---