Thu., March 14, 2013, 5:09 p.m.
Tribes Fight To Keep Language Alive
The unmistakable melody of Michael Jackson's "Thriller" filled the packed room at the Pavilion at Northern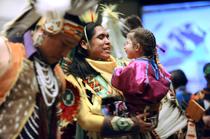 Quest Resort and Casino. A trio of women took the stage, executing the iconic dance moves as the lead singer, sequined hat, one glove and all, belted out the song. The tune was familiar but the words were not. That's because the song was performed in Salish at the Salish Karaoke Contest on March 6 during the Celebrating Salish Conference/Cindy Hval, SR. More here. (Jesse Tinsley SR photo: Lawrence McDonald, a Colville and Nez Perce Indian, chats with Kaienna Noel, 3, while dancing in the Celebrating Salish Conference powwow)
Question: Was a foreign language spoken in your childhood home? Which one? Did you understand it?
---
---