Fri., March 15, 2013, 9:01 a.m.
1 Last Year To Jump Thru WAC Hoops
LAS VEGAS – The elevator doors at the Orleans Hotel are papered over with the logo for the Western Athletic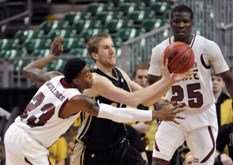 Conference basketball tournament playing in the arena next door, which otherwise seems to be a secret. The other day a woman pushed the button and waited for a car to arrive, puzzled. "I don't know what the WAC is," she confessed to her husband. Join the club, ma'am. Not only what, but who. And where. And when, how and especially why. And speaking of eternal questions, here's another: Will Don Verlin ever win a game in this tournament? The Idaho coach gets one more chance in 2014, and that's it/John Blanchette, SR. More here. (AP photo: Idaho's Stephen Madison, center, is double-teamed in the Vandals' WAC tournament loss to New Mexico State on Thursday)
Question: Are you glad/sad that University of Idaho will jump to the Big Sky from the WAC in 2014 for all sports except football?
---
---