FRIDAY, MARCH 15, 2013, 10:01 A.M.
Asian Markets Hungry For Our Wood
Asia is growing hungrier for American wood products, and producers in the Northwest are delving deeper into exports even as domestic lumber demand rebounds from an epic building slump. Representatives from 15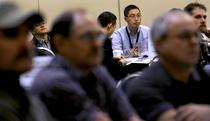 Chinese and three South Korean companies are in Coeur d'Alene this week to see what more the Inland Northwest has to offer and build trade relationships. The delegations toured mills Wednesday in Kettle Falls and Colville and attended a conference on small-diameter logs and wood exports Thursday at the Coeur d'Alene Resort. Exports of both logs and finished wood products provided a lifeline to many Northwest mills during the recession, industry representatives said/Scott Maben, SR. More here. (Kathy Plonka SR photo: Devin Ding, center, general manager of Shanghia Zhenyuan Timber Structures Engineering, made the trip from China to attend the Small Log Conference at the Coeur d'Alene Resort on Thursday.)
Question: Do you support increasing export of American wood products to Asia?
---
---