Fri., March 15, 2013, 5 p.m.
EPA Priest Lake Fight Inspires Thriller
Released this week, the latest thriller by New York Times best-selling author C.J. Box is inspired by the plight of Pacific Legal Foundation's clients, Mike and Chantell Sackett of Priest Lake, Idaho, (pictured) who fought all the way to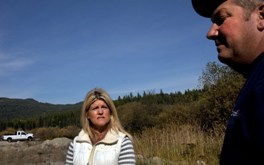 the U.S. Supreme Court for their right to challenge the abusive treatment they received from the U.S. Environmental Protection Agency. "Breaking Point" (G.P. Putnam's Sons) is C.J. Box's thirteenth novel featuring Wyoming game warden Joe Pickett. The drama swirls around the murder of two EPA agents, the manhunt for a suspect, and the "breaking point" pressures on two men — Joe Pickett himself, and Butch Roberson, a local business owner whose life has been ripped apart by a federal agency's cold-hearted bureaucratic arrogance. "'Breaking Point' is loosely based on the Sackett case, but with several fictional twists," said C.J. Box. "It's a cautionary tale of what unchecked bureaucrats can do — and did — to ordinary folks under the radar in fly-over country/Pacific Legal Foundation news release. More here.
Thoughts?
---
---