Chris Peck is retiring as editor of The Commercial Appeal, the newspaper's newsroom staff was told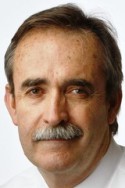 Thursday afternoon. Mizell Stewart III, vice president of content for Scripps newspapers, the parent company of The Commercial Appeal, said managing editor Louis Graham will serve as interim editor. He said a national search for Peck's replacement — both in and out of Scripps — will take place with hope that a replacement will be selected in 90 days. Peck, 62, has overseen operations of The Commercial Appeal's newsroom since he was hired in 2002 to replace the retiring Angus McEachran/Memphis Commercial Appeal. More here.
DFO: Chris Peck was the editor who hired me away from the Lewiston Tribune in 1982. He was also responsible for moving me to the Editorial Board in 1993 for a 13-year run. So I owe him a lot. Good editor. Good man. I wish him well in retirement.
Question: Do you remember Chris Peck?