FRIDAY, MARCH 15, 2013, 8:55 A.M.
Letter: 'Pachyderm' Offensive
This note is regarding the article appearing on the front page of the Cd'A Press on 3/9, titled "Tight grip on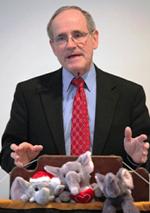 state sovereignty Lincoln Day Dinner" by Alecia Warren. I respectfully request the Press raise its standards above injecting direct, blatant and derogatory comment in what is presumably presented as a reporting piece, not an opinion piece. Use of the word "pachyderms" is the issue with the article. (With guns on display for a raffle, local pachyderms gathered to rub elbows with elected conservatives, including precinct committeemen, as well as county, state and federal officials.) There could be worthy debate on that viewpoint, although prone to spiraling off the substance due to this inflammatory word, but using such language in a reporting piece on the front page strikes me as completely inappropriate/Jeff Odland of Hayden, Coeur d'Alene Press letter to the editor. (Duane Rasmussen photo: U.S. Sen. Jim Risch speaks to North Idaho Pachyderm Club in Coeur d'Alene last Friday)
Question: Wonder what the GOP members of the 2 or 3 Pachyderm Clubs in the county would say about this letter?
---
---