Mon., March 18, 2013, 8:08 a.m.
Huckleberries: Covering Papal Beat
The selection of Argentine Cardinal Jorge Bergoglio as the new pope wasn't Cindy Wooden's first papal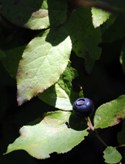 rodeo. The Sandpoint native has covered three popes in her 25 years as the Vatican correspondent for the Catholic News Service – John Paul II, Benedict XVI and now Francis. She's a media expert in all things Vatican. She has met U.S. presidents, world leaders and even the late Mother Teresa. Her favorite government official, however, is closer to home: her sister, Bonner County Treasurer Cheryl Piehl. Marianne Love busts her buttons whenever the world spotlight shines on the Vatican because she knows her former Sandpoint High journalism student is busy behind the scenes. Cindy has failed to persuade Marianne that she has an 8-to-5 job like everyone else – except, of course, when she's dealing with the first resignation of a Holy Father in 598 years and the first pope from the Americas. Ever/DFO, Huckleberries, SR. More here.
More weekend SR columns:
Question: Do you know anyone living in Rome?
---
---