Tue., March 19, 2013, 9:03 a.m.
Pivotal Vote Defines New Speaker
Idaho is poised to have its own state-based health insurance exchange. But getting that far required a unique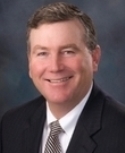 coalition - Gov. C.L. (Butch) Otter, a libertarian governor who broke with many of his fellow GOP governors; a freshman class of Idaho House Republicans and a solid House Democratic caucus. The measure cleared the House Wednesday on a 41-29 vote - after another version won Senate passage by 23-12. It involved the most unlikely of bills - creation of a state-based exchange is part and parcel of Obamacare. And it came in the most unexpected of places - the same Legislature that only two years earlier so detested Obamacare that it openly flirted with nullifying the federal law in open defiance of the U.S. Constitution. One man stitched it all together, House Speaker Scott Bedke (pictured), R-Oakley/Marty Trillhaase, Lewiston Tribune. More here.
Question: Is the 41-29 House vote on a state-run exchange an indication that the uber-cons aren't as strong as they were two years ago?
---
---