Wed., March 20, 2013, 5:09 p.m.
Spring?
Lots to ponder this first morning of spring. The birds would like to know why their sunflower seeds are all wet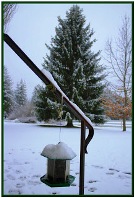 and mushy. The horses would like to know how much longer they have to slog around in the slop. The cats would like to know why they can't have two consecutive days of lying in the sun under the bird feeders, catching an occasional stray gluttonous finch, pecking around on the ground for extra seed. The humans would like to know why they still have to climb the cold, wet ladder next to the house with a broom to sweep snow off the satellite dish. Eventually, if we're lucky, all questions will become moot points, or we'll stay in wonderment and in bad moods/Marianne Love, Slight Detour. More here.
Question: Are you in a bad mood today because spring has sprung a leak? Or in a good mood because the Gonzaga Bulldogs will tip off in the NCAA Tournament Thursday afternoon?
---
---