Mon., March 25, 2013, 9:47 a.m.
Boomers: Who Will Care For You?
Who will take care of us when we are old and frail? The answer has remained constant for centuries: Your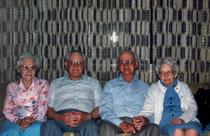 grown children. Maybe not in their home, but in their hearts, minds and actions until the day you die. You took care of them as babies, toddlers and teens. It's payback time. The baby boomer generation, those born between 1946 and 1964, might be the first generation unable to count on their grown children as caregivers, if they even had children. It's a new world, future oldsters. Get ready/Rebecca Nappi, SR. More here. (SR photo: Becky Tiller's paternal and maternal grandparents are pictured here in 1988 when they were in their late 70s and 80s. "They were my royalty," said Tiller, a geriatric care manager in Spokane)
Question: Do you know who will care for you when you're old & frail?
---
---