Mon., March 25, 2013, 1:04 p.m.
Ex-Cop Lynch Redeems 2nd Chance
It was at a detox center where Dan Lynch's life began to change. As a former police officer in San Francisco,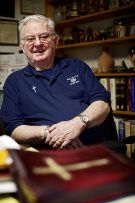 the Post Falls resident turned to alcohol to deal with the trials of his job. "My captain sent me to detox and, while I was there, I said, 'I don't believe in God, but if there is one, I asked that my life be taken because it had gotten out of control,'" Lynch said. "That night I slept 8 hours for the first time in 10 years and I had no dreams. I have never had the desire to drink since and I left the center 10 days early." Lynch is a former staff member at Real Life Ministries, a nondenominational church in Post Falls that has about 7,000 attendees each weekend. He still teaches Bible classes at the church and has served as a chaplain for the Post Falls Police Department for several years. ... As Easter approaches ... Lynch is thankful for the second chances he's been given and a softening of his heart/Brian Walker, Coeur d'Alene Press. More here.
Question: Has life given you a second chance?
---
---