Mon., March 25, 2013, 1:48 p.m.
Idaho ACLU Decries Firing Of Adams
Kootenai County Commissioners last week voted to terminate the Public Defender contract with John Adams, the county's longstanding public defender who has served as the public defender for the last 17 years. The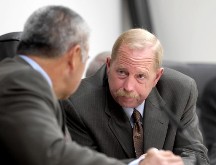 news reached the ACLU of Idaho over the weekend. In a letter sent to Kootenai County Commissioners today the ACLU expressed dismay with the decision by the county to terminate the contract with Mr. John Adams, who is one of the best public defenders in the entire state. "We are not surprised that the press described the legal community's reaction condemning your decision as "swift and loud" said the joint letter of the ACLU of Idaho and the ACLU's National Office in New York City. "Coming, as it does, almost exactly 50 years after the United States Supreme Court's landmark decision in Gideon v. Wainwright, guaranteeing all Americans' right to be defended against their government, your effective termination of one of Idaho's best public defenders will serve as an especially ominous illustration of the grave failures of this state's unconstitutional indigent defense system"/spokesman Leo Morales in Idaho ACLU press release. More here. (2006 SR file photo: Public Defender John Adams speaks to then Prosecutor Bill Douglas during the murder trial of Joseph Duncan)
Thoughts?
---
---