Tue., March 26, 2013, 9:54 a.m.
Tom Luna Vs Glenn Beck? Really?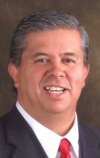 Maybe not exactly. But sort of. State Superintendent Tom Luna In defending one of Tom Luna's key initiatives — Idaho Core Standards, or "common core" — spokeswoman Melissa McGrath calls out conservative pundit Glenn Beck for spreading "misinformation" about the initiative to establish uniform math and English language arts standards. McGrath decried the misinformation in an email sent to Idaho reporters this morning. Here's the chronology. On March 14, Beck devoted his talk show to common core as a leftist movement that would devastate public education/Kevin Richert, The EDge. More here.
Question: I simply can't imagine that Superintendent Luna would embrace anything "liberal." Can you?
---
---