Fri., March 29, 2013, 8:48 a.m.
City To Seek Sewer Expansion Vote
It's going to a vote. The Coeur d'Alene City Council agreed Thursday to ask voters for the authority to borrow up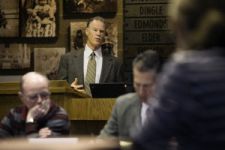 to $36.3 million for federally mandated upgrades to its wastewater treatment plant. The City Council begrudgingly voted 4 to 1 to put the up or down question on a ballot for the May 21 election as a way to prevent one councilman from handcuffing the city's options by tying the issue up in court. It means the city all but will abandon its preferred route -- judicial confirmation -- which would be the less expensive option. But the council said an election is the best route to take to prevent the project from possibly stalling. "This is ridiculous. We shouldn't be here," said Mike Kennedy, councilman. "Steve put us all in a very bad position over an ideological matter that I think is a misunderstanding of Idaho state law"/Tom Hasslinger, Coeur d'Alene Press. More here. (Shawn Gust Coeur d'Alene Press photo: City Attorney Mike Gridley explains bond vote to City Council)
Question: What will be the political fallout for Councilman Steve Adams in all of this?
---
---