Fri., March 29, 2013, 1:14 p.m.
Rammell Loses Elk Poaching Appeal
Former Idaho gubernatorial candidate Rex Rammell has lost his second appeal over a 2010 elk poaching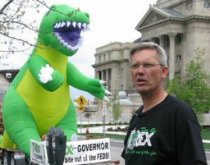 charge, with the Idaho Court of Appeals ruling unanimously that two lower courts correctly upheld Rammell's misdemeanor conviction. He challenged it on multiple grounds, nearly all centering around his contention that the state didn't prove he intended to unlawfully kill an elk in the Tex Creek Zone on Nov. 30, 2010. But the high court found that the offense requires no specific intent/Betsy Russell, Eye on Boise. More here. (Eye on Boise file photo)
Question: Anyone out there admit that they've voted for Rex Rammell at one time or another?
---
---