Fri., March 29, 2013, 2:02 p.m.
Subway Opens In Downtown CdA
They say that when God closes a door, he opens a window. Well, when Jerry Jensen closes a Subway, which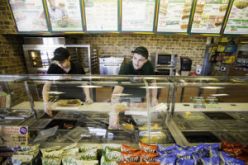 is unusual, he opens another - and likely another and another. The owner of six Subways in Coeur d'Alene and Hayden sat inside his newest store on Seventh and Sherman that opened Monday. "Obviously in the summertime we're going to get a ton more traffic, and that's a big thing," he said. The 1,700-square-foot store is in a prime location to continue drawing big weekday lunch crowds, as well as increasing customer count for dinners and weekends. "I think that really was the driving force behind this," Jensen said/Bill Buley, Coeur d'Alene Press. More here. (Shawn Gust Coeur d'Alene Press photo: Sandwich artists Patrick Runkle, left, and Brad McNelis work on a customer order Tuesday at Subway in Coeur d'Alene)
Question: This is the site of the old Senor Froggy's, right? Is that a good location for a Subway?
---
---