Wed., May 1, 2013, 8:42 a.m.
4 Of 6 Candidates Show For Forum
The school trustee hopefuls who attended the Coeur d'Alene Education Partnership's candidate forum on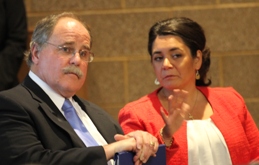 Tuesday all said they believe a school board position is and should be a nonpartisan one. Some of the newcomers seeking election, speaking to a crowd of about 120 in the Coeur d'Alene Public Library's Community Room, said they are running for seats on the Coeur d'Alene School District's Board of Trustees because the entity currently lacks political and philosophical balance and diversity. "This is supposed to be a nonpartisan school board. We're supposed to be focused on what's best for children, how can we help our education professionals. ..We're not supposed to be focused on partisan political issues," said Tom Hearn, who's running against Bjorn Handeen for the Zone 5 seat now held by Jim Hightower/Maureen Dolan, Coeur d'Alene Press. More here. (Duane Rasmussen photo: Candidates Tom Hearn and Christa Hazel chat before the debate forum)
DFO: Bjorn Handeen and Ann Seddon failed to appear for the forum.
Question: Which candidate are you going to support in your zone?
---
---