Wed., May 1, 2013, 9:02 a.m.
Don't Need No Steekin' Transparency
One of the odd things about the trustee forum Tuesday evening was the absence of Zone 5 candidate Bjorn Handeen and appointed Zone 5 Trustee Ann Seddon. Seddon provided prepared opening and closing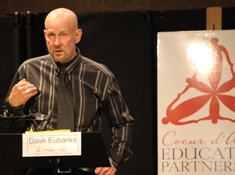 statements, which JimmyMAC read off-stage for the Coeur Group. Here's one line in her closing statement that made me snicker: "I am a conservative and because I believe in transparency I chose to run as a Republican. I want voters to know who I am and what I believe. They deserve nothing less. Voters need more information on candidates, not less.' Why did I laugh.? If Seddon truly believed in transparency, she would have attended the most important debate forum (because it was televised by Coeur d'Alene TV Channel 19 and will be shown several times) of the 2013 Coeur d'Alene School Board trustee election. She and Handeen need to realize that trustees represent all constituents in the Coeur d'Alene School District, not just those who belong to the Republican Party in general and Tea Party wing in specific. (Seddon's opponent, Dave Eubanks, makes a point during CEP/Coeur Group forum Tuesday)
Question: Which Coeur d'Alene School Board candidates do you think are the most transparent?
---
---