Wed., May 1, 2013, 9:14 a.m.
Johnson: Jim Crow's Playmates
One of the best things about the new film about baseball great Jackie Robinson is actor Harrison Ford's portrayal of the baseball executive Branch Rickey, the man who found the guts in 1945 to sign Robinson to a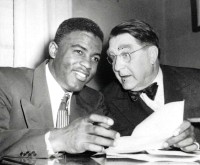 minor league contract with the Montreal Royals and the next season, against all odds, brought the first African-American player to the major leagues. By all accounts Mr. Rickey, as everyone called him, wasn't much of a ballplayer himself. He only played in the majors for four seasons, had a career batting average of .239 and hit only three home runs. Granted it was the "dead ball" era, but those numbers don't get you to Cooperstown. Rickey got to the Hall of Fame on the strength of his success as a baseball manager and executive/Marc Johnson, The Johnson Report. More here. (AP file photo: Jackie Robinson and Branch Rickey)
DFO: Marc Johnson has written a wonderful column about Jackie Robinson's impact on baseball and society beyond -- and the Jim Crow laws he faced that dehumanized African-Americans.
Question: Have you had first-hand experience with Jim Crow laws?
---
---