Wed., May 1, 2013, 5:43 p.m.
Washington Most Bike Friendly State
For the sixth year in a row, Washington has been named the nation's most bicycle friendly state. Colorado and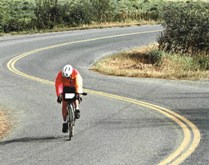 Oregon came in second and third on the yearly list that gives national bragging rights and is closely followed by the cycling community. The rankings are bestowed by the League of American Bicyclists. Begun in 2008, they are based on funding for biking legislation, bike programs and policies, infrastructure, education and planning. Washington Governor Jay Inslee attributes his state's standing to embracing biking as a "form of transportation that enhances our quality of life and honors our environment"/Elizabeth Wiese, USA Today. More here. (SR file photo: Bicyclist on West Hauser Lake Road)
Also: Oregon is No. 3, Wyoming No. 33, Idaho No. 36 and Wyoming No. 39. All states here.
Question: Do you ride your bike more today than you did five years ago? And/or: Are you surprised that Idaho is rated so low?
---
---