Wed., May 1, 2013, 11:51 a.m.
Welcome, Best Month Of The Year
Welcome May! This morning in water aerobics several of us reminisced about May traditions, including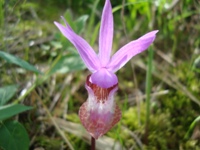 baskets of flowers left on porches and all the Mary crowning ceremonies that took place in Catholic schools during May. Mary crowning ceremonies still happen in some schools. There are special Mary hymns, too. But it took three of us to piece together parts of them. It takes a village these days to remember…Happy May!/Rebecca Nappi, End Notes. (Photo of beautiful flower was taken by Walkabout on Tubbs Hill this week)
Question: Do you consider May to be the best month of the year? If not, which month would you pick? Why?
---
---