THURSDAY, MAY 2, 2013, 10:56 A.M.
3rd Street Launch To Shut June 1
If you want to drop your boat in to Lake Coeur d'Alene this summer, you might have a tough time finding a boat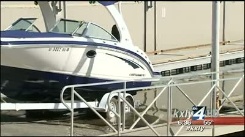 launch. One of the busiest launches will close because of the construction on McEuen Field. The Third Street boat launch will close from June 1 until September 30. While nearby businesses are battling construction at McEuen Field, boaters and boat deliveri ng companies are battling time. Steve from The Tobler Marina says he's constantly filling client requests in preparation for the summer. "I deliver anywhere between 3-6 times a day," he said. Steve uses the 3rd Street ramp because it's the easiest. Wednesday, he docked Brian Simpson's Chapparal speedboat/Ian Cull, KXLY. More here. (Photo: KXLY)
Question: How will the closure of the 3rd Street boat launch affect you this summer?
---
---